Our story - The Malmesbury Clinic
The Malmesbury Healthcare Clinic was the brainchild of our Lead Osteopath Pippa Evans, who started her own practice in 2015. Having worked & trained at the renowned Carl Todd Clinic, Pippa setup her own practice in the heart of Cirencester - in the Cotswolds - providing patients with an empathetic & thorough level of care.
A change in circumstances then prompted a change of scenery, and a move to Malmesbury, Wiltshire. Pippa started work in Malmesbury in April 2016 with Malmesbury Osteopathy and has since grown the clinic into the multidisciplinary practice that it is today. With a strong emphasis on quality of care and friendly treatment, The Malmesbury Clinic provides a variety of treatments such as Osteopathy, Physiotherapy, Sports Massage, Nutrition, Podiatry and Hypnotherapy.
Ideally situated equidistant from large towns / cities such as Swindon, Cirencester, Bath & Chippenham, we pride ourselves on a complete treatment with every single patient. By utilising several different treatment options we believe we give our patients the best chance of recovery, in the shortest amount of time.
---
Our clinic is based in the centre of Malmesbury, in the Cross Hayes car park. The main clinic building contains two well equipped rooms and a reception area. We also provide a third clinic room across the Courtyard area at the back of the main building. In addition to this, in September 2019 we now have a fourth treatment room - the largest of them all - that can accommodate small group Pilates sessions.
All of our clinic rooms are designed with comfort in mind. Having been a pottery for 32 years, our clinic has been fully refurbished and decorated to a high standard. Our receptionist and Clinic Manager Richard is always on hand for a chat and to answer any questions you may have.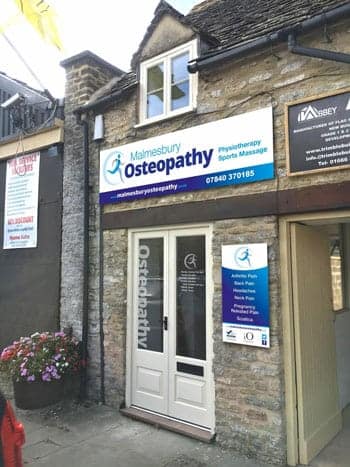 April 2018A new name for a new clinic

At the beginning of April the name of our clinic changed from Malmesbury Osteopathy, to The Malmesbury Clinic. This change reflected the change in our clinic to the multidisciplinary clinic that exists today.

Jan 2018An even bigger team!

The new year saw two new additions to the team, with Matt our Sports Podiatrist and Helen, our Nutritionist joining the clinic.

Dec 2017The team expands

December was an exciting month, with the addition of Sports Massage therapist Sarah Jones.

Nov 2017A team created

Steve McMullen joined the team as a second Osteopath

Nov 2017Expansion

Having built a solid patient base, expansion was required to sustain growth. In November we moved into The Pottery building.

2016Malmesbury Osteopathy created

Due to a change in circumstances, Malmesbury Osteopathy was created in Potters Yard.

2014Cirencester Osteopathy created

Pippa began Cirencester Osteopathy, running from the Dyer Street Hypnotherapy centre.