Pippa Evans
Pippa Evans graduated from the British School of Osteopathy with a Distinction in the Masters degree in Osteopathy.
She has since worked as an associate in London at The British School of Osteopathy graduate clinic, a small family clinic in Kent, a large multidisciplinary clinic in Bristol where she took part in regular CPD and technique sessions with the Physiotherapists, Chiropractors, Acupuncturists and Sports Injury Therapists, and more recently a clinic in Corsham, working alongside a renowned Osteopath in the field of sports medicine, Carl Todd.

Pippa set up 'Cirencester Osteopathy' in November 2014 and 'Malmesbury Osteopathy' in March 2016 which she ran alongside working at the renowned Carl Todd Clinic in Corsham. Now she solely focuses on her practice in Malmesbury.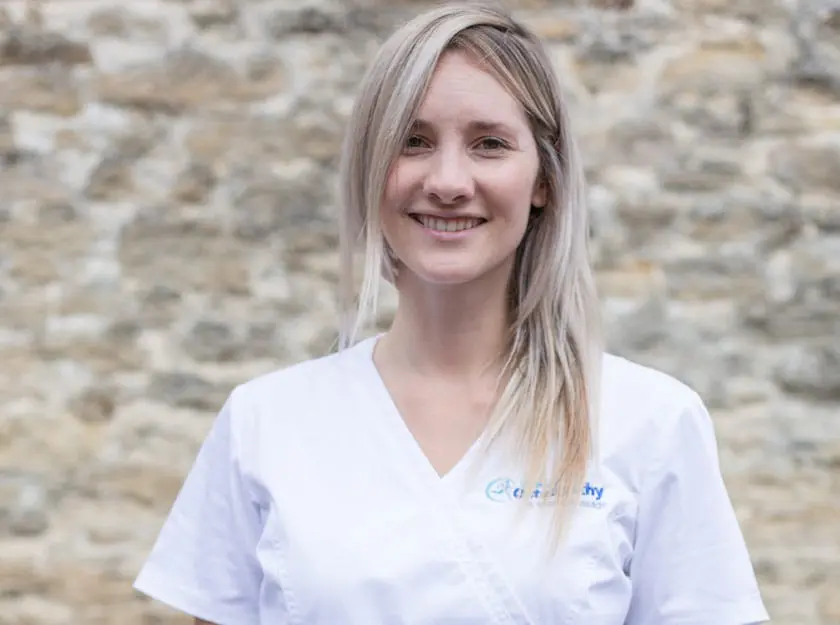 Since graduating Pippa has gained further postgraduate qualifications in paediatric osteopathy, treating new-borns to teenagers, pregnancy osteopathy, medical acupuncture and kinesiology taping (rock taping). She uses a wide range of techniques including structural manipulation and stretches, cranial osteopathy, massage and medical acupuncture. She strongly believes that in order to achieve optimal results from treatment, exercises should be prescribed and carried out alongside hands on treatment and will tailor exercise programmes specifically for your diagnosis.
Previous to this, Pippa graduated from the University of Bristol with an Honours Degree in Anatomy and holds an ITEC diploma in Sports Massage Therapy. She offers Sports Massage or Deep Tissue Massage alongside Osteopathy.
Pippa has always been interested in the latest, up to date medical research, and was awarded a prize for her research presentation at the Chiropractic, Osteopathy and Physiotherapy conference in 2012. She regularly attends seminars, conferences and presentations given by orthopaedic surgeons and specialists.
Pippa was a keen high-board diver and dancer and is therefore very interested in movement of the human body. She more recently qualified as a skydiver, and believes that in order to achieve peak performance in either your chosen sport or in every-day activities and work life, a healthy mind and body is vital. Osteopathy is designed to work with the body to remove any barriers to recovery and promote a healthy lifestyle.
Interesting Fact
Initially studied to be a Dentist
---
Drinks
10
Cups of tea a day!
---
Testimonials
What our patients say -
Pippa really understood my back, shoulder and arm pain and used a combination of osteopathy, dry needling and rock tape to treat it very successfully. I was surprised at how quickly the initial problem resolved, particularly after the dry needling. The exercises she suggested were helpful and easy to do. All in all, a great service. Thank-you Pippa!

I can not recommend Pippa highly enough. I walked in to her clinic a few months ago in significant pain, thinking there was no hope of me ever getting my shoulders sorted enough to get back in the gym. Pippa is friendly, knowledgeable and professional. She immediately made me feel at ease, explained what was wrong to each shoulder and more importantly she allowed me to leave her clinic feeling relieved, hopeful and almost pain free. Four sessions with her have made such a massive difference that I am beginning to think my shoulders are normal again!

For a while I really struggled with a problem under my shoulder blade and across my back that would cause a lot of discomfort. Not only did Pip locate the problem(s) and treat it, she showed me how to best look after it myself. It has certainly improved since seeing her. I would really recommend Pip and The Malmesbury Clinic to anyone who needs help and wants a friendly and welcoming Osteopath.

Only had my first appointment with pippa Thursday. What a difference it made to my swim on Friday. I could move my shoulder fully where normally i don't have enough range and struggle to get it out the water. Looking forward to improvements I can make before race season.

The Malmesbury clinic is amazing, friendly and well located. Pippa found the issue with my back in minutes then fixed it with scheduled appointments. Pippa you are amazing... Thank you so much!!! I highly recommend this place!!